Burnt shaft gear
Discoloration of gears due to excessive heat.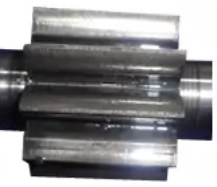 CAUSES FOR DAMAGE
PTO was left engaged while truck driven. Dump pump used in continous duty application. Relief valve set too low or stuck open.
SOLUTION
Review application and replace the pump. Use automatic PTO ckick-out valce Check the the relief valve setting and function. The heat discoloration is often a secondary symptom of cavitation, damage due to contamination, to high oil temperature, or still over-revving pump.